Guess Who?.. It's me.
No, I mean the "The ORIGINAL Mystery Face Guessing Game" from MB or in this case Guess Who? Extra from Hasbro.
The kids have been having a clear out of some of their old crap toys and games. Amongst them was a Guess Who? Extra game bought for my youngest at one Christmas or another. It's the electronic one where the electronic bit doesn't really do anything worthwhile but is there more for the sake of novelty.
It initially came with a few swappable character cards (such as kids and aliens) with a promise of more being available on the Hasbro website. I remember perusing the Hasbro site at the time, and looking at a handful of printable cards that were available. I also remember my son not being all that interested in their offerings.
Well, now he's decided to get rid of it because he's "too old for it". He may think he's too old but I'm 40 and I'm having it. I think it's the perfect game to play with my daughter. She has, amongst other issues, autism, ADHD and global learning difficulties so this game is the ideal opportunity for us to spend some time together with something that may hold her interest.
Not only that but if she takes to it I can make other cards with her favourite characters, Worzel Gummidge, The Wizard of Oz, maybe even family members.
To that end I decided to see what character cards were still available on the Hasbro website but all I could find were character cards for a different version of the game; and those don't fit into the Extra shell. This presented me with the ideal opportunity to come up with my own character sheets, amongst them Teenage Mutant Ninja Turtles, Super Mario and a retro gaming card. I decided I'd upload them here for the benefit of anyone else who may want to use them. I've created both red and blue and kept to the original character selection positions of the original cards. It wasn't necessary but it makes it more difficult to guess your opponents character by watching them move the sliders.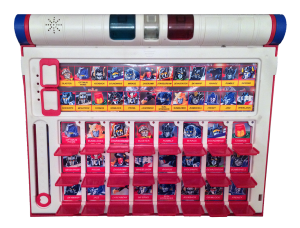 Right-click and Save link as…
Print using Landscape mode at 100% with no scaling.
Teenage Mutant Ninja Turtles
Super Mario
 
Retro Gaming
 
At some point I'd like to do a Transformers G1 set and maybe some adult orientated (not pr0n) sets such as the Walking Dead and Game of Thrones.
Edit: I had a free hour or so this afternoon so knocked together these "The Walking Dead" Character Cards.
The Walking Dead
Further edit: I had a bit more time free last night and this afternoon so, having found some nice box scans on botchthecrab.com, I put together these Transformers G1 Character Cards. Decepticon names are printed italicized for easy identification. I've reworked the template slightly for a better fit in the Guess Who? Extra shell.
Transformers G1
Transformer character images courtesy of botchthecrab.com