Star Trek: The Next Generation Interactive VCR Board Game – A Klingon Challenge…
…or just "A Klingon Challenge" is one of those Atmosfear style video based games from the 1990s. A Klingon Challenge was released in 1993 and is for 3-6 players aged 8 years upwards.
With the brilliant Star Trek Picard debuting this week it seemed a fitting time to drag "A Klingon Challenge" out for an airing.
For those unfamiliar with Atmosfear then it's basically a board game accompanied by a VHS cassette that runs alongside the game. The video moves the story along by having a host character at the forefront of the story. The host manipulates the gameplay with obstacles thrown in player's paths and challenges issued for the player to overcome.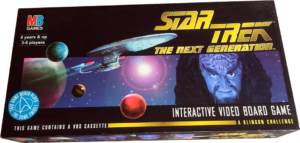 Continue reading "A Klingon Challenge – Star Trek: TNG VCR Board Game" →