With the kids off school over the Easter holidays I once again found myself putting my gaming exploits on the back burner, besides a bit of multi-player Mario Kart and Turtles in Time via the network with my Daughter anyway.
I thought, seeing how my Daughter loves the Wizard of Oz, I would introduce her to another scarecrow from my childhood in the form of Worzel Gummidge; played beautifully by the late Jon Pertwee.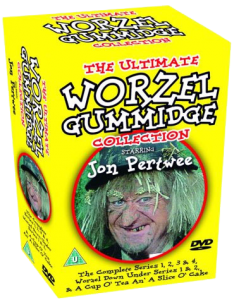 I found the 'Ultimate Worzel Gummidge DVD Collection' online for under £20 and we've spent a good chunk of the holiday being entertained by the antics of Worzel, Aunt Sally & co.
Now, I just need to teach her Worzelese. G-wor-o-wor-o-wor-d-wor-zel d-wor-a-wor-y-wor-dip a-wor-l-wor-l-wor-dip.