I picked up a couple of items on eBay recently. The original Playstation Dual Analog controller (SCPH-1180) [Wikipedia] and the official Playstation mouse (SCPH-1190) [Wikipedia].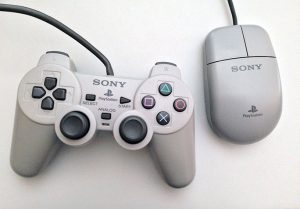 The Dual Analog controller was quickly replaced by the less responsive (IMO) DualShock controller and are slowly becoming a piece for collectors; not for me though, I fully intend to use this as my primary controller.
A friend had a Dual Analog controller back when they first came out and I've always remembered how comfortable they were to use so I just had to grab this one for under a fiver.
The mouse was necessary for a bit of Broken Sword because the controller is just too slow for that.